Home /
Basics /
Wix vs WordPress: Choosing The Right Platform
By Karol K
Last updated: October 13, 2020
Wix vs WordPress – which is the better website platform? If you're planning to build yourself a website, this question is very likely something you're pondering right now.
And the question actually isn't all that easy to answer – since Wix and WordPress are both really quite good systems. WordPress is the veteran player who has been in the game for years now, dominating the popularity charts, whilst Wix has been making some impressive strides lately with its new user interface and adding various powerful features.
In this guide, we're going to compare Wix vs WordPress, cover the main differences between them, their pros and cons, and, lastly, point out which is likely the better choice for your individual needs and requirements.
Table of Contents
Wix vs WordPress in a Nutshell
What is Wix?
In a nutshell: Wix is an all-in-one website platform. It allows you to build a website from scratch on your own with no coding skills required. Wix is marketed as a tool that's ideal for beginners. There's 24/7 customer support.
Price: $0 to $49 a month, depending on the plan you choose. A free domain name is included for the first year on all paid plans (for free sites, a subdomain is included – like YourSite.wixsite.com).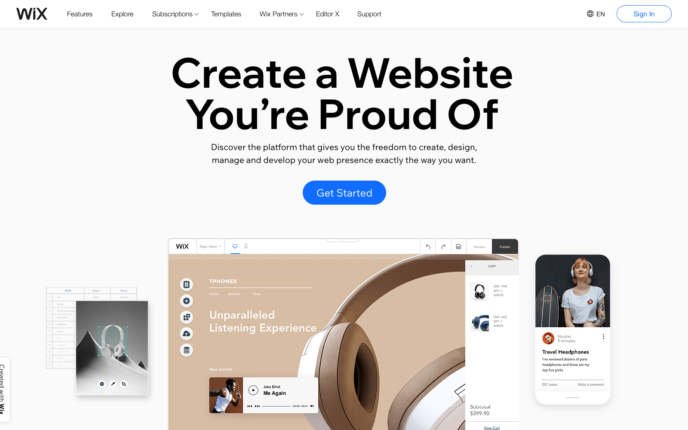 Wix is an online platform where you can build your website and then make it available for the world to see.
Getting on Wix is very straightforward. All you have to do is go to the main Wix website, sign up for an account, and then let Wix onboard you through all the steps of getting from zero to a beautiful and functional website (even including an eCommerce module if you need it).
How Wix does its magic is something that users appreciate a lot. The platform boasts having well over 190,000,000 people using it at the time of writing.
Wix can handle all types of standard websites, such as business sites, portfolios, blogs, websites for personal projects, eCommerce stores, and more.
What is WordPress?
Before we begin, WordPress comes in two flavors. The one we're comparing here is the self-hosted WordPress (aka. WordPress.org). There's also the commercial WordPress (WordPress.com), which is a whole other thing. We've picked the self-hosted WordPress because that's what most people mean when they say "WordPress."
In a nutshell: WordPress is an open-source website software. In order to use it, you first have to install it on a web server. After that,
[…]
This article was written by Karol K and originally published on WinningWP.