Imagine a superpowered version of your WordPress blog. Imagine your website serving not just as a blogging application but also as a file management server. Imagine if you could use your WordPress website to browse files and share them with your readers. Imagine no more because WP File Download can transform your WordPress blog into a file manager and let you do so much more with your webspace.
An easy-to-use WordPress file manager
WP File Download is, simply put, a WordPress plugin that acts as a file manager embedded right in your WordPress blog. It works and functions very similarly to your Windows file browser, which means that you can add new files, move them around and remove them when you no longer need them.
Best of all, because WP File Download is so similar to your desktop file browser, it's very intuitive and easy to use. You can get started right away by drag-and-dropping files into WP File Manager's interface. Or, if you prefer, you can go the more traditional route and click on the select files button to browse files on your desktop computer.
Recently, the WordPress plugin has also added support for multiple categories, which means that you no longer have to decide where to place a file. If it makes sense to add a file to two or more categories, you can simply click on a file and choose which categories it belongs to by using the sidebar.
A file manager is more than just uploading and downloading files. Like your very own desktop file browser, WP File Download allows you to create categories analogous to folders or directories to organize your files. You can rename directories, nest them to create a hierarchy of categories, and drag-and-drop files into them to arrange your repository.
Protecting your WordPress files
The biggest difference between your desktop file browser and your WordPress file manager is that files are only available to one person on your desktop: you. On WordPress, any other collaborator can access or change your files. Luckily, WP File Download has thought of that too with several features.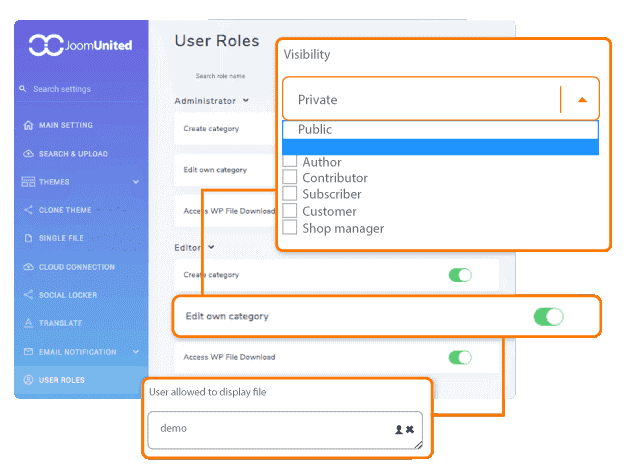 For example, you can restrict a file or category's visibility to just one WordPress user. More generally, you can specify access rights by WordPress user role: WP File Download lets you choose which user groups can create, edit, delete or even access the plugin.
Still worried about protecting your files? WP File Download's email notifications, which you can set up relatively easily, let you know right away when someone adds, edits, deletes, or even downloads a file. All emails are customizable and optional, so you can switch them off if you're not worried about changes to your files.
[…]
This article was written by Editorial Staff and originally published on WP Newsify.