A hundred new tokens are minted daily despite the market having more than 10,000 cryptocurrencies and 400 exchanges. As a result, we cannot research, study, or learn more about these coins without some help. In the past, it would take years to find a crypto gem, but today there are active crypto research tools to make looking and learning about crypto easier.
The top research resources in the field of cryptocurrency are listed below. And remember, research tools aren't just paid-for analyzers. You can quickly get info from trading apps and even blogs. 
1. CoinMarketCap
CoinMarketCap is the ideal place to begin your investigation into cryptocurrencies. You can easily find relevant data on specific currencies and the whole crypto market. Coin market capitalization (obviously), volume, supply, a description of the firm or coin, a rating, news, exchanges, social media, etc. Every vital piece of information is only a click away. 
Anyone can learn more about the investments they are making with CoinMarketCap. If you follow the trend and use this tool as a booster, you'll soon know more than most investors. 
2. CoinStats

Many investors will want to remain current on the most recent news on the assets in their portfolio after making the plunge into cryptocurrencies. The CoinStats mobile app is the best resource available for the cryptocurrency industry.
The CoinStats team has created the most efficient method for investors to get the most recent information from cryptocurrency development teams. Additionally, you can use it to monitor your whole portfolio in real time across all significant exchanges. Overall, this is the ideal tool for managing your portfolio, researching new assets, and keeping an eye on the market.
Investors can also use it to stay up with the most recent information from each cryptocurrency team inside the CoinStats program, get alerts when the market moves quickly, or read trending articles.
3. CoinToBuy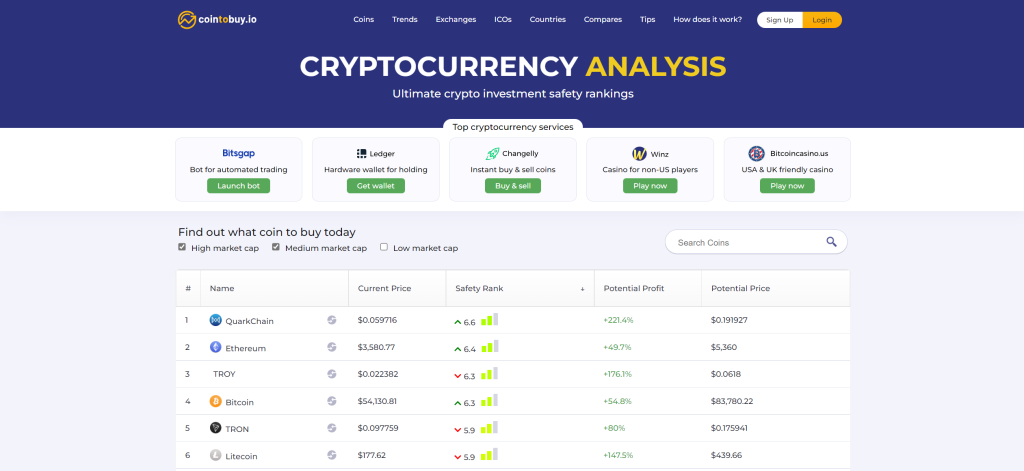 When evaluating the prospective returns, the safety of cryptocurrency investments, and the hype around a new investment, CoinToBuy is beneficial. The following ranking elements help them determine these values: volume, market capitalization, 24-hour change, social media following, Google trends, Twitter citation, and user voting. In essence, all rating criteria point to short-term excitement. The profit increases as the buzz do.
The drawback of this tool is that it only allows you to identify short-term hype, not long-term crypto investments, based on a preliminary study. However, because the ranking is continually shifting, the tool benefits traders.
4. Glassnode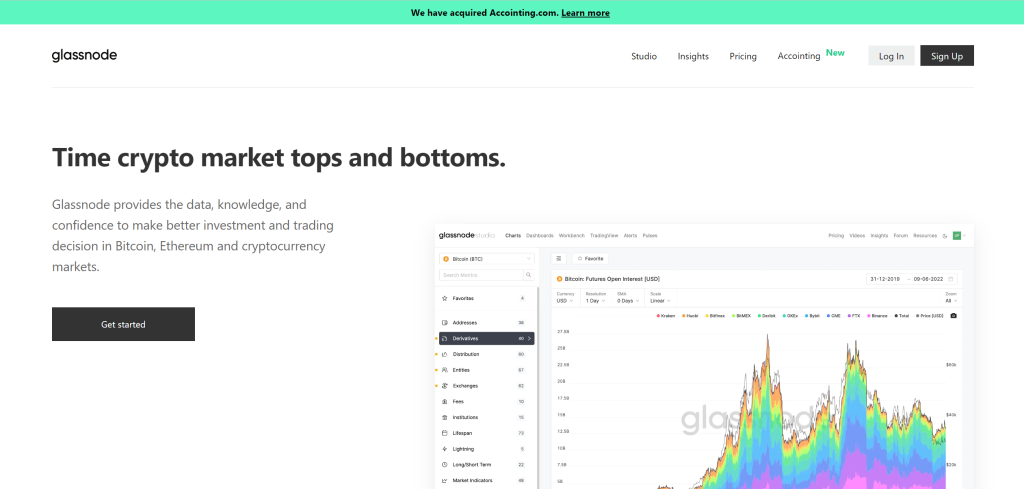 As an on-chain data and intelligence platform, Glassnode collects information from several blockchains to precisely gauge the activity of the crypto network and then uses that information to provide metrics and investment insights. With Glassnode, you can examine market indicators for any coin and see how many active addresses have completed successful transactions. The site also offers price information and lets you download data and create alarms.
Free 24-hour updates to "Tier 1" data are available through Glassnode. Additional data and regularly updated information are available with paid memberships, which cost $29 per month or $799 per month, both paid yearly.
5. The Block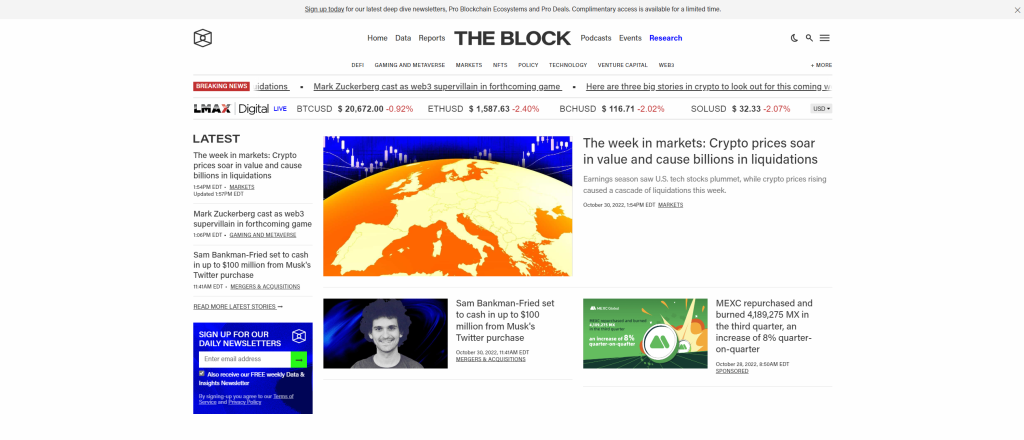 Changing gears from statistics for a moment, The Block has become more popular among crypto enthusiasts. This qualified group of researchers and analysts is introducing a brand-new platform for breaking news in the cryptocurrency industry. Few other teams can compare to how fiercely they seek the truth and work to stay on top of every important story, even though they have occasionally been embroiled in scandal.
Consider The Block if you want access to breaking news or deep insights into the cryptocurrency industry. They constantly provide high-quality material and have links to several cryptocurrency teams.
6. Santiment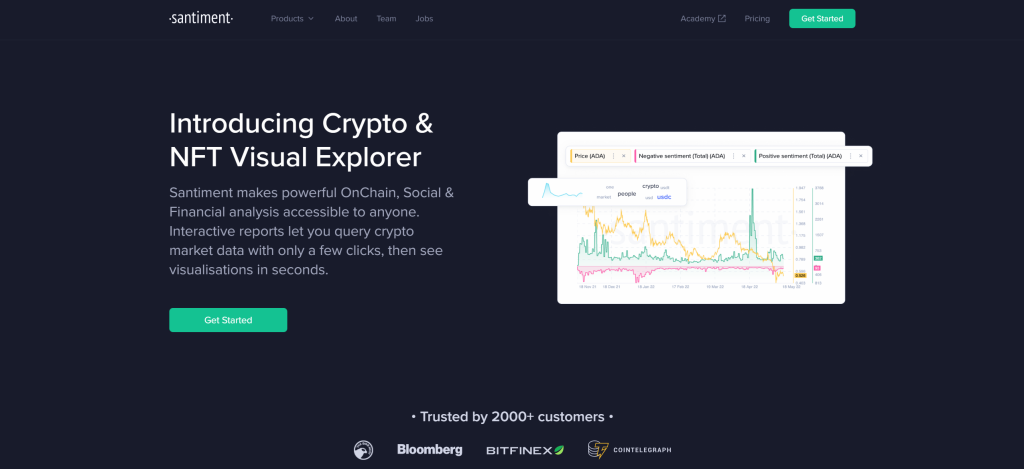 Another crypto research tool that merits attention is Santiment. Like Glassnode, Santiment offers on-chain, social media, and financial data on around 2,000 cryptocurrencies, enabling you to forecast any cryptocurrency's price movement. The app also provides behavioral data and fundamental insights to remain on top of upcoming events. Additionally, you can set up alerts on Santiment to receive notifications anytime the social volume of a currency you're tracking increases.
For $44 per month, payable annually, retail cryptocurrency investors, including newbies, can use the flagship platform's fundamental analytics to get a feel for the market. SanAPI accounts for developers and quants are invoiced annually for $149 per month and include additional metrics and historical data.
7. Binance Research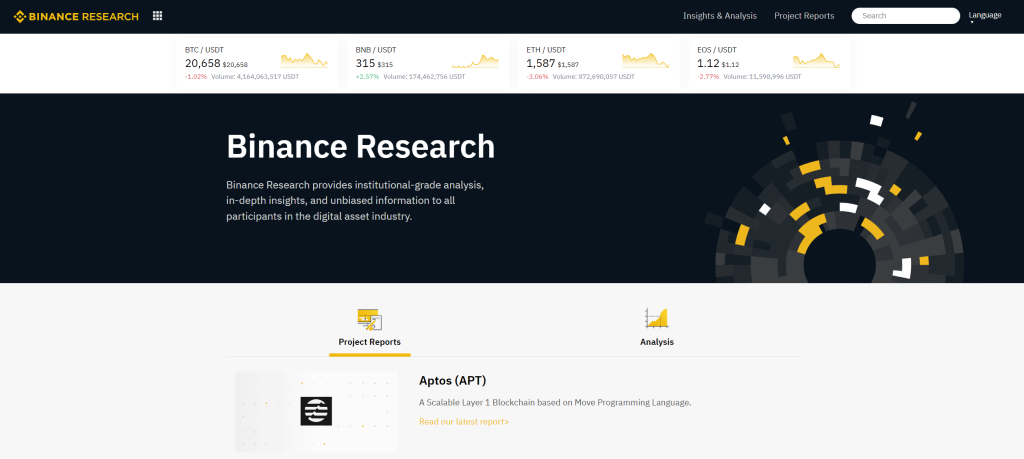 At this point, anyone involved in the cryptocurrency business for more than a few months has probably heard about Binance. They provide various products and are recognized as one of the biggest cryptocurrency exchanges in the world.
The Binance Research website is one of the tools they offer to investors. This website aims to educate visitors about the bitcoin market and digital assets. Any new investor who wants to learn more about the market's operations will benefit significantly from the long-form information offered by the Binance Research team.
Final Thoughts 
Any investor should have access to cryptocurrency research tools. Learn to use one or two tools before investing your money in a specific bitcoin project. With these tools, you will understand price changes for any cryptocurrency project.
Keep reading the article at WP Pluginsify. The article was originally written by Ivana Banić on 2022-10-30 15:47:42.

The article was hand-picked and curated for you by the Editorial Team of WP Archives.