If you have a simple, low-traffic site, you don't need to worry much about this because even cheap hosting with minimal resources has enough power to run your site.
In these cases, you can keep costs down by using shared hosting. If all you do is check your email, there's no reason to pay for a Macbook Pro!
However, for high-traffic sites and/or more dynamic sites (e.g., an eCommerce store or an online course), you'll want more resources, which will necessitate a higher price. Typically, these types of sites will do better with cloud hosting, either directly or via managed WordPress hosting.
Features
All web hosts offer the computing resources that you need to host a website at a basic level.
However, many hosts go further and build in features and tools to help you manage your website. Here are some examples of what these features and tools can be:
User-friendly hosting dashboards to help you manage everything without code.
Automatic daily backups and external storage to keep your site's data safe.
Email hosting to create your own custom email address (though you can also purchase separate email hosting, such as using Google Workspace).
Staging sites to safely test changes to your website.
Proactive and reactive security features to stop threats before they happen and detect anything that makes it through.
For some examples of the very barebones approach, you can look at cloud VPS providers like DigitalOcean and Vultr. These hosts literally just offer the computing resources, which makes them very cheap for the resources and performance that you get.
On the other hand, a managed WordPress host like Kinsta will charge a lot more for the same performance. But for your money, you get tons of features to simplify things and make your life easier. You also get premium support, which brings us to the next point…
Support
Just as with features, you'll also see varying levels of support between different hosting services.
Some web hosts offer very barebones support, where literally all they'll help you with is the server itself.
Other hosts, such as managed WordPress hosts, offer more "application-level" support. This means they'll help you with not just the server, but also the software that you install on that server (e.g., WordPress).
Offering this extra level of support costs hosts a lot of money, so they'll charge higher prices as a result. However, if you're not a very technical person, you might find this to be a good investment because you'll be able to reach out to support whenever you hit an issue with your website.
First-year promotional prices vs renewal prices
This last detail that can affect how much does it cost to host a website mainly applies to cheap shared hosting providers.
In the budget WordPress hosting space, it's very common for cheap hosts to offer rock-bottom "promotional" prices that apply to your first billing term.
While these promo prices are a great way to save money upfront, it's important to understand that they only apply to your first billing term (which could be anywhere from one month to four years, depending on the host).
Once you go to renew your plan, you'll need to pay the "regular" price, which can be as much as 3X the promo price at some hosts.
If you're planning to host your website for a long time, you'll want to factor both prices into your budgetary decision.
Website builder vs web hosting costs
Here's the next question – how much does it cost to host a website if you use a website builder like Squarespace or Wix instead of installing the WordPress software on your own hosting (or another content management system).
Well, this is a bit of a tricky question because there's no direct "hosting" cost when you use a website builder.
Instead, you'll pay one flat rate for the entire website builder service, which includes hosting as part of that price along with all the features.
In general, it can be cheaper to make a website using WordPress and cheap hosting. As we mentioned earlier, you can host a full-featured WordPress website for as little as $5 per month, especially at the beginning.
However, we're emphasizing "can" for a reason – it can also cost more to host your own site, especially for a complex site like an eCommerce store (which is more resource-intensive than something like a blog).
👉 For example, if you were to create a website with Wix, you'd pay around $18 per month for a very basic website and $23 per month for an eCommerce store.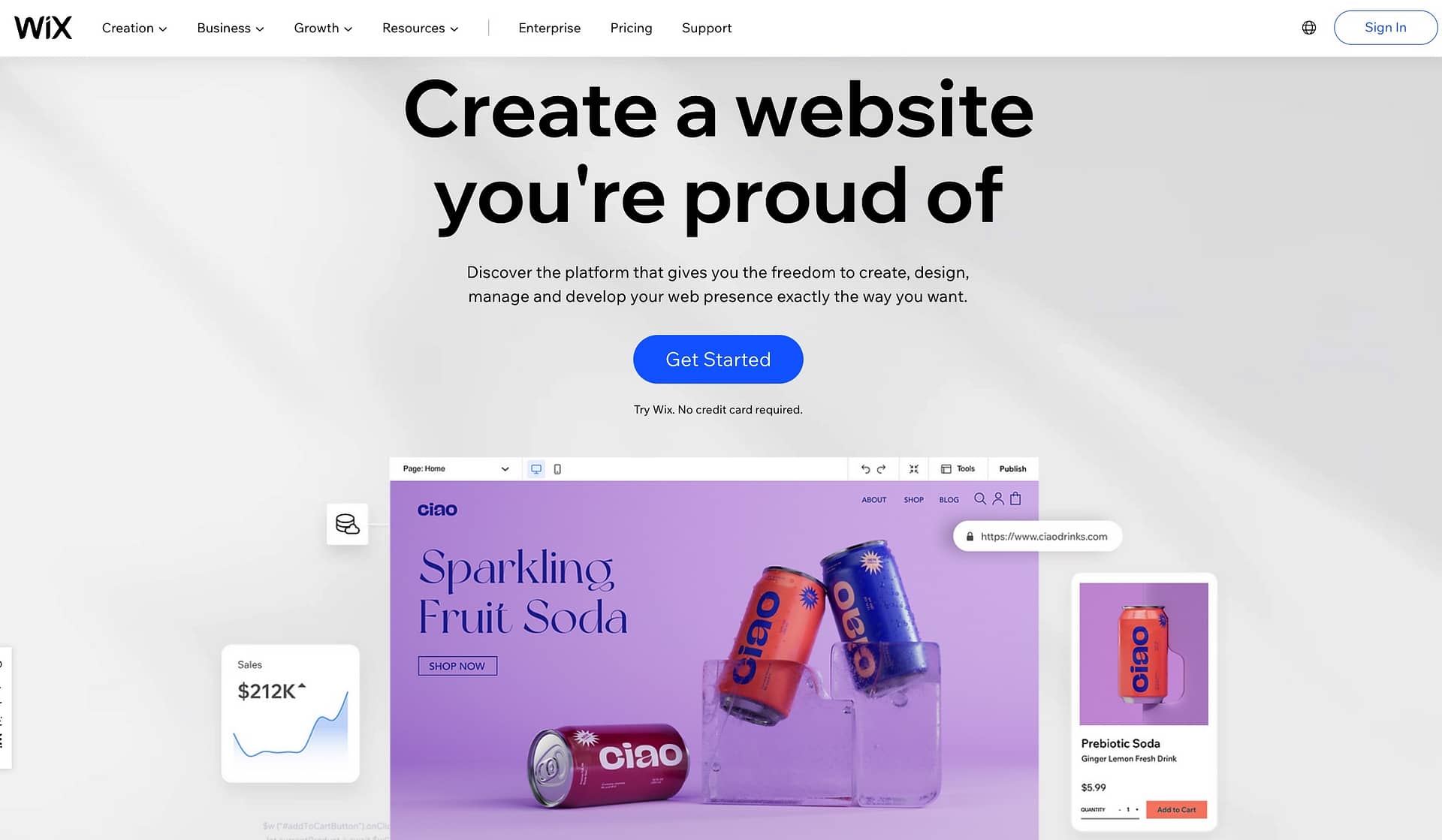 You can definitely self-host a basic website for less than $18 per month, which is why using something like WordPress can be cheaper.
However, if you wanted to host an eCommerce store with WordPress, you'd typically want to pay more than $35 per month for hosting, which is why Wix might be cheaper for that type of site (though a WordPress eCommerce store has other benefits that justify the higher price).
If you're interested in learning more about website builders and how they compare to hosting your own website, you should check out these posts:
Other website costs beyond web hosting
Whether you self-host your own WordPress website or use a website builder, you'll also want to factor in some other costs that go beyond the web hosting itself.
Domain name
If you want to make a website, you're going to need a domain name to go along with your hosting. It's your site's permanent address on the internet – ours is codeinwp.com.
Some web hosts offer a free domain for your first year, such as Bluehost. If your host doesn't, you'll need to purchase a domain name from a dedicated domain registrar.
Thankfully, this is pretty cheap. A .com domain name will usually only cost you around $12 per year from cheap domain registrars, or even cheaper if you use an at-cost domain registrar like Cloudflare Registrar.
For some other useful information or tips on working with domain names, you can check out these posts:
Website software and extensions
If you're not using a website builder, you'll also need the software that you'll install on your web hosting to create your website.
For most people, this will be the WordPress software. Because WordPress is a free, open-source project, there's no cost for the core WordPress software.
However, many people might want to purchase a premium WordPress theme and/or premium plugins to extend the core software.
A premium WordPress theme normally costs around $60, though it depends on the specific theme. Your site only needs a single theme, so this caps the cost of your theme at around $60 (or free if you use a free theme, of course). You can also find quality free themes, such as the Neve theme.
Whereas a theme controls the design of your site, WordPress plugins let you add new features to your site.
WordPress plugins are a far more variable cost because there's no "average" price for a plugin and you'll likely install multiple plugins.
If you're on a budget, you could get by with entirely free plugins. However, you could also easily spend a few hundred dollars on plugins – likely even more than that if you're building a WordPress eCommerce store.
⚠ Note – even if you use a website builder, you still might need to pay extra for "apps." For example, Shopify apps can get quite expensive.
Email hosting
Finally, you might need to pay for email hosting if your hosting service doesn't already include it.
Many hosts do offer email hosting, so you can avoid this cost if you choose a host that does. However, bare-metal hosting providers or managed WordPress hosts typically don't offer email hosting.
Thankfully, it's quite cheap. Google Workspace costs just $6 per month, or you can find even cheaper email hosting providers, like MXroute, which costs $45 per year. Or, if you're willing to put up with some limitations, you can even find free email hosting from providers like Zoho Mail.
Website hosting costs FAQs
At this point, you should have a pretty good 🤩 idea of the answer when it comes to "how much does it cost to host a website?".
To finish things out, let's recap and answer a few common questions about how much it costs to host a website.
How much does it cost to host a website with WordPress?
To self-host the WordPress software, you can pay as little as $2.75 per month. To create a full-service website with WordPress.com, you'll pay $14 per month for the Pro plan.
How much is web hosting monthly?
If you want to pay monthly, you can typically host a website for around $3 per month if you choose a cheap provider. However, prices can certainly go higher for improved performance, features, support, etc.
How much does it cost to host a website for a year?
If you choose a cheap host and pay for a year upfront, you can host a website for as little as $33 for the first year. However, prices can certainly go higher for improved performance, features, support, etc.
What's the cheapest way to host a website?
The cheapest way to host a website is to use shared hosting from a budget provider like Bluehost. You can pay as little as $2.75 per month for the first year.
Is it cheaper to host your own website?
You'll generally save money by using a dedicated hosting service for your website, rather than trying to use your own hardware.
This is why even large enterprises have started outsourcing their hosting to cloud providers like AWS and Google Cloud instead of keeping everything in-house.
Create your website today! 🚀
So – how much does it cost to host a website? Well, by this point, you should have a pretty good idea of what you should expect to pay, along with the variables that might affect the final cost.
All that's left is to go ahead and actually create your website. And don't worry 😎 – we have some detailed, step-by-step guides to help you do just that.
If you're ready to get started 🎯 with your very own website, you can follow the tutorials in these posts:
Do you still have any questions about how much does it cost to host a website, or how to make a website? Let us know in the comments!
Keep reading the article at CodeinWP. The article was originally written by Colin Newcomer on 2022-07-19 12:51:34.

The article was hand-picked and curated for you by the Editorial Team of WP Archives.