L
ooking to add a contact form to your WordPress site? Having a contact form gives your audience a direct way to get in touch with you.
Maybe they have a general question, or perhaps they want to make inquiries about your products or services. Either way, a contact form lets them do that.
In this article, we'll show you how to create a simple contact form in WordPress. And don't worry, there's no coding involved as we'll be using the WPForms plugin.
Let's begin!
Back to the top
Good question. Why not let people email you directly? Here are 3 good reasons to use a contact form.
1. Protects you from spam
Using a contact form stops you from getting loads of spam. If you disclose your email address on your website, then it's likely to be picked up and copied by the spambots that regularly trawl websites. So keep your email address safe and use a contact form instead.
2. Saves you time 
Using a contact form lets you control and organize the information that you need to collect. Which, in turn, cuts down on sending emails back and forth. And from a user perspective, they have a ready-to-use place to enter their message and hit send immediately. 
3. Organizes information
With a contact form, you'll receive consistent and organized information from your users. You can create specific fields to guide them through the messaging process, so you only receive what's relevant.
Back to the top
When you start a new blog, you'll notice that WordPress doesn't come with a contact form, which means you'll need to use a contact from plugin.
In this tutorial, you'll learn how to create a simple contact form using WPForms: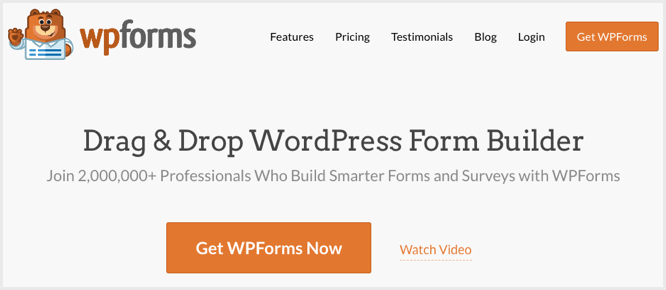 WPForms is the most beginner-friendly contact form plugin available for WordPress. You can use the drag-and-drop builder to create a contact form in just a few clicks.
For this tutorial, we'll use WPForms Lite, which is 100% free. You can upgrade to WPForms Pro at any time when you want to create more advanced forms, like a blog survey.
Let's get started!
Step 1: Install WPForms 
First up, you'll need to install the WPForms plugin. 
From your WordPress dashboard go to Plugins > Add New: