Home /
Plugins /
Envira Gallery Review: The Best WordPress Image Gallery Plugin?
By Joe Fylan
Last updated: July 30, 2020
In this post, we'll be reviewing one of the WordPress platform's most popular image gallery plugins: Envira Gallery. Read on to learn about the plugin's best features, how to use it, and whether or not it's a plugin worth paying for.
As a webmaster, it's your job to satisfy internet users' obsession with photos and pretty visuals, while also serving your website at lightning-fast speed. But aren't these two goals, well, sort of incompatible? After all, adding a ton of photos to your pages is bound to make things slower — using large, quality images means sacrificing load time, right?
Well, not always. And in this post, we're going to be assessing a potential solution to this predicament: the Envira Gallery plugin.
The claim on the Envira Gallery website is bold and unambiguous: 'The Best Premium WordPress Gallery Plugin.' It builds beautiful image and video galleries, it's quick and easy to use, and it's been fine-tuned for maximum speed. What more could you ask for from a gallery plugin, right?
Of course, any plugin can sound good on paper. The more important questions are: What's it like in reality? Does it live up to expectations? And is it worth the price tag?
We'll be looking to answer all of these questions and more, as I take Envira Gallery for a test drive.
Let's get started.
Introducing Envira Gallery
First, though, a little background on Envira Gallery.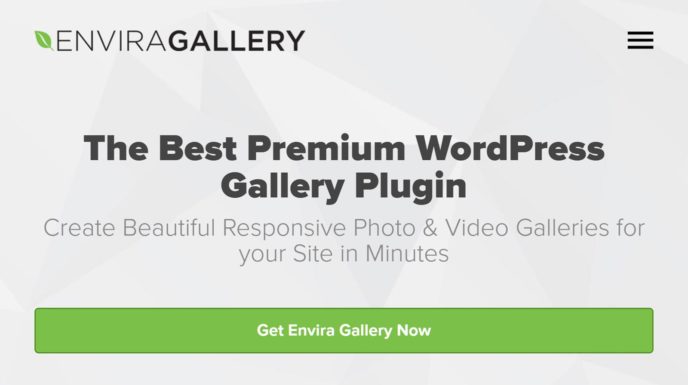 Envira Gallery was part of the Awesome Motive stable of plugins, which also includes OptinMonster, MonsterInsights, and WPForms (click for reviews!). However, Syed Balkhi and the team sold Envira Gallery (and Soliloquy) in 2018 to focus on their other plugins.
Despite the change of hands, Envira Gallery remains a formidable option in the gallery plugin space. It's still regularly updated, with new features added on a consistent basis. The plugin celebrated its sixth birthday in January 2020, so it's been around for a while now. During this time, Envira has established itself as arguably the top gallery plugin, and possibly one of the best-known plugins in the WordPress world — period. As such, it may already be on your radar.
Right from the get-go, performance has always been a vital part of Envira's philosophy. Original
[…]
This article was written by Joe Fylan and originally published on WinningWP.