Running a WordPress website takes a lot of work. You'll likely need to split your time between creating and promoting content, and performing ongoing maintenance. However, you might be wondering if it's worth investing in maintenance services for a single WordPress website.
Maintenance services can save you a lot of time. By using a tool such as ManageWP, you can automate your website security, backups, and Search Engine Optimization (SEO) with minimal effort. Then, you'll have more time to dedicate to other parts of your business, such as content creation and product development.
In this guide, we'll discuss the benefits of using maintenance services for a single WordPress website. We'll also explore how to use them for your site. Let's get started!
4 benefits of using maintenance services for a single WordPress website
There are multiple benefits to using maintenance services, even if you only have a single WordPress website. If you run a small business, you likely have to manage multiple tasks simultaneously by yourself. By delegating some of these tasks to intuitive software, you can focus your energy on the more important parts of your company.
Let's take a look at a few key benefits of using a maintenance service such as ManageWP.
1. Automate essential processes
Regular backups are necessary to keep your WordPress website in working order. Backups protect your site in case of data loss from hacking attempts, failed migrations, issues in your code, or any other errors. Without them, you would need to create your website again from scratch, losing all valuable content.
However, backing up your WordPress website manually can be time-consuming. Even with a single site, you'll need to remember to make copies of your website files regularly. Alternatively, you could use the automatic backups feature built into our ManageWP maintenance services:
If you have just one WordPress website, you might like to opt for the free backup service. It automatically backs up your site data once a month and stores the files externally. Then, you can restore previous versions of your website with a single click if you run into any issues.
Alternatively, the premium backup tool enables you to choose your backup frequency. For instance, you can store copies of your site files every hour, day, or week. Additionally, you can run the backup process on-demand before making significant changes to your WordPress website.
In the same vein, it's essential to regularly update your WordPress website. This process involves upgrading the core software, as well as any plugins and themes. Outdated programs make you vulnerable to attacks or may slow down your WordPress site.
Using ManageWP, you can update your WordPress software safely with a single click: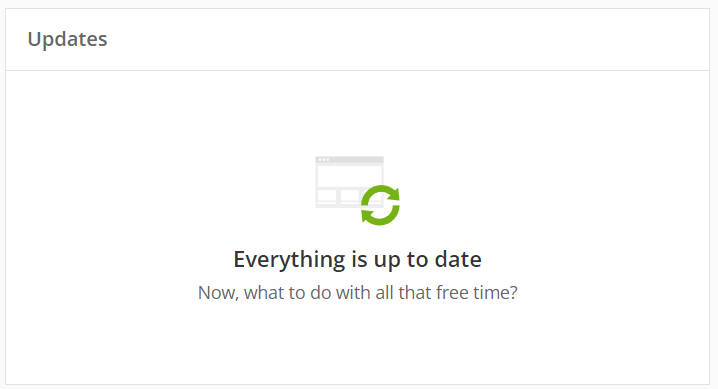 […]
This article was written by Will Morris and originally published on ManageWP.