At times you would want to ensure that only a particular set of groups of people can access all or part of your WordPress website and the WooCommerce Store, the thought that strikes the mind is to password protect WordPress.
This may sound somewhat tricky and geekish to some of you, but we bet, by the end of reading this post, you would be able to do some amazing things on your website. Be it protecting your whole WordPress site or protecting certain sections of posts, pages and content or maybe password protecting your WooCommece based store or individual products.
All this with a few clicks and sometimes using certain WordPress plugins to make our life easy.
The best use of these features would be on the website where you would want to maintain segregation between your free and paid users.
You can show the free posts, pages, categories, or content to all the users. However, you can password protect some key valuable posts, pages, categories, or sections of content and keep them to be accessed by only your premium users.
In this post, we'll tell you how you can protect your entire site or just a few posts and pages and make them password protected.
1. Password Protecting WordPress Posts
WordPress has an inbuilt option to make posts password protected. Using this feature, you have the freedom to share posts with only a certain set of audience.
This feature could be used if you want to share the content, let's say, only with your friends, family, or website subscribers.
We'll show you how to use this feature step by step:
On your WordPress site, you get an option to choose the visibility for your site. By default, this is set to "public" which means that once this post is published, anyone can access it using the URL of the post.
Apart from this default setting, when you click on "edit", you'll get an option to change the visibility to "Private" or make it "Password Protected."
Once you choose the "Password Protected" option, enter the password, click on "Publish." Voila! You have enabled the password protection on your WordPress post.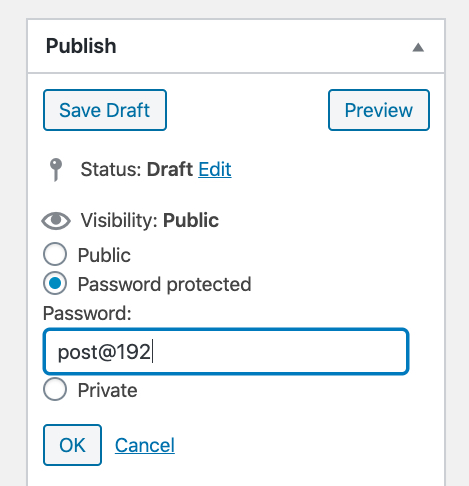 Now, when a user tries
[…]
This article was written by MyThemeShop Editorial Team and originally published on Blog – MyThemeShop.