Home /
Plugins /
Top Nine Best Photo Gallery Plugins for WordPress (2020)
By Kevin Muldoon
Last updated: June 6, 2020
Are images and photographs your livelihood? Then don't just stick your work on your website haphazardly and hope for the best — your work is worth more than that, right?
Instead, give your images the showcase they deserve. In the online world, this is achieved by presenting them in stylish galleries.
Fortunately, WordPress users are spoilt for choice when it comes to gallery plugins — even the WordPress core has a certain amount of built-in gallery-building functionality!
If you take your images seriously, though, this core functionality can feel quite limited. With hundreds of gallery plugins available — both free and premium — why accept limitations?
Simply install one of the many plugins and away you go: you'll have more powerful, better-looking image galleries that your visitors will love. And, because many of the plugins are rich in customization capabilities, you'll be able build custom-styled galleries that can really enhance your brand.
To help you narrow down your selection, we've taken an in-depth look at the top nine best WordPress gallery plugins on the market.
And remember: When it comes to art, image is everything. Any artist or photographer worth his salt knows that presentation is almost as important as the work itself — your images will be better received if the collection is nicely put together.
1. Modula – FREE / $39+
Developed by the same people behind Macho Themes, Modula is a flexible gallery solution for WordPress that can be used to display images and videos in gorgeous lightbox galleries.
The free version of the plugin is called Modula Lite.
In the gallery page, you can upload new images or select images from your WordPress media library. These images can be displayed in a creative gallery, custom grid or columns style gallery.
The gallery can then be inserted into posts and pages using the WordPress block editor or the classic editor.
Modula allows you to define the width of your gallery and the size of images and thumbnails. You can also specify whether images open up in a lightbox or link to the image or attachment page.
Social media icons can be displayed on images when a user hovers over them too. You can also adjust the styling of captions and borders and select from one of two hover effects.
Unfortunately, Modula Lite limits you to only 20 images per gallery.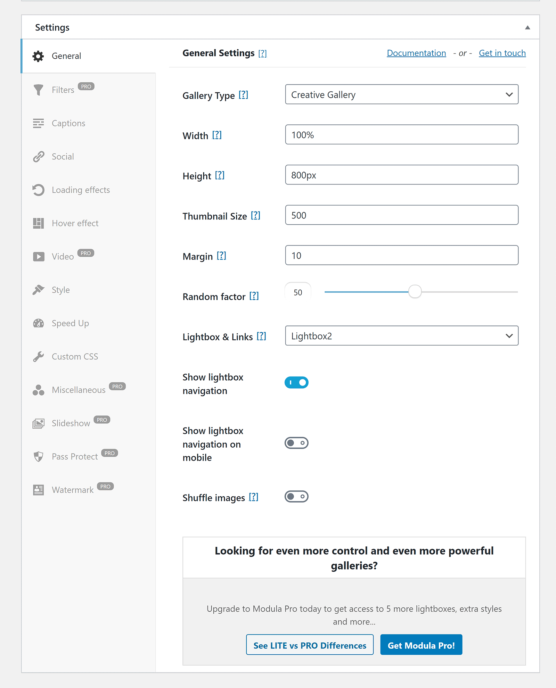 […]
This article was written by Kevin Muldoon and originally published on WinningWP.