Want to create a Typeform WordPress form?
With Typeform, you get access to a powerful and flexible form builder that helps you create unique conversational forms. Beyond this, Typeform enables you to store all the data you collect safely. It also integrates with several other services.
But Typeform is a separate service from WordPress, so how do you add your Typeform form to your WordPress site?
In this article, we'll teach you how to use Typeform with WordPress in three steps.
Let's get to work!
A quick introduction to Typeform
In contrast to most WordPress form plugins that create static forms, Typeform lets you create unique conversational forms like this one:
This offers a much more interactive experience than most form plugins for WordPress.
One caveat is that Typeform hosts forms on their own servers. As such, if you want to integrate Typeform with WordPress, you'll need to jump through a couple of hoops.
How to add Typeform forms to WordPress (three steps)
In this tutorial, you'll learn how to set up your first Typeform form and add it to WordPress. First off, you'll want to set up an account.
Step 1: Set up a Typeform account
Typeform is a premium service although they do offer a limited free plan. The free plan lets you host three forms and process up to 100 responses each month. You also get access to analytics, reports, and templates, so it's a pretty good deal.
When you've set up an account and you're ready to go, it's time to set up your first form.
Step 2: Create a new form
When your account is ready, you'll get access to the Typeform dashboard. From here, you can jump straight into the form builder by clicking on the New typeform button:

You'll get to decide whether you want to use a template or design a form from scratch. You should choose Start from scratch for the purposes of this tutorial.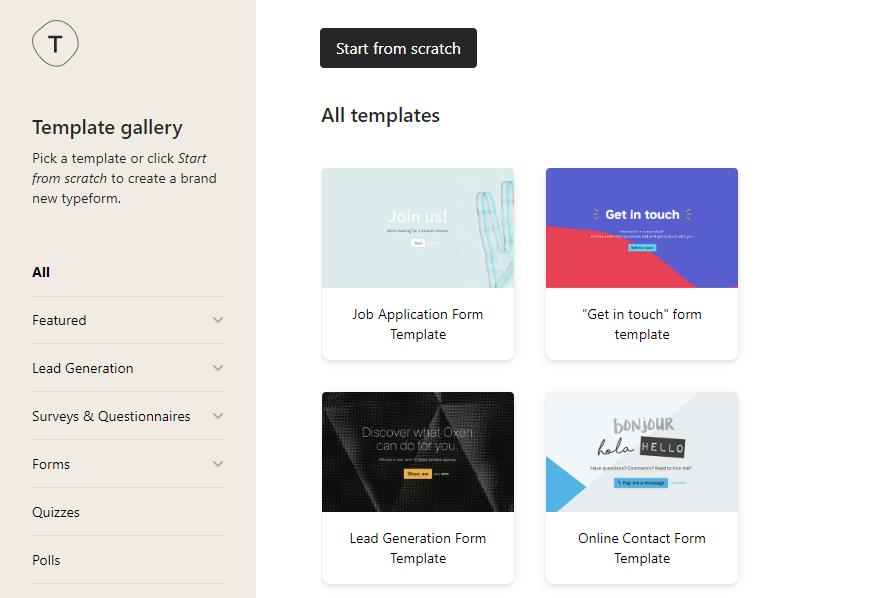 On the pop-up form, set a name for your project and select
[…]
This article was written by John Hughes and originally published on ThemeIsle Blog.